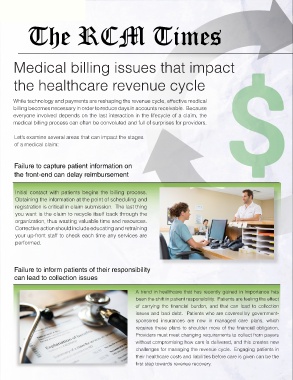 Medical billing issues that impact



       the healthcare revenue cycle




       While technology and payments are reshaping the revenue cycle, effective medical
       billing becomes necessary in order to reduce days in accounts receivable.  Because
       everyone involved depends on the last interaction in the lifecycle of a claim, the
       medical billing process can often be convoluted and full of surprises for providers.


       Let's examine several areas that can impact the stages
       of a medical claim:



       Failure to capture patient information on
       the front-end can delay reimbursement



       Initial  contact  with  patients  begins  the  billing  process.
       Obtaining the information at the point of scheduling and
       registration is critical in claim submission.  The last thing
       you want is the claim to recycle itself back through the
       organization, thus wasting valuable time and resources.
       Corrective action should include educating and retraining
       your up-front staff to check each time any services are
       performed.





       Failure to inform patients of their responsibility
       can lead to collection issues


                                                          A trend in healthcare that has recently gained in importance has
                                                          been the shift in patient responsibility.  Patients are feeling the effect
                                                          of carrying the  financial burden, and that can lead to collection
                                                          issues and bad debt.  Patients who are covered by government-
                                                          sponsored insurances are now in managed care plans, which
                                                          requires these plans to shoulder more of the financial obligation.
                                                          Providers must meet changing requirements to collect from payers
                                                          without compromising how care is delivered, and this creates new
                                                          challenges for managing the revenue cycle.  Engaging patients in
                                                          their healthcare costs and liabilities before care is given can be the
                                                          first step towards revenue recovery.