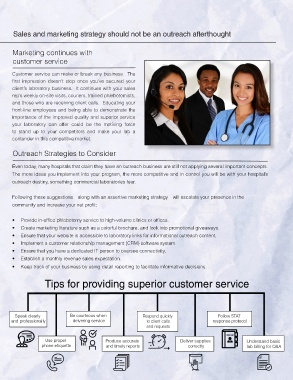 Sales and marketing strategy should not be an outreach afterthought


      Marketing continues with

      customer service

      Customer service can make or break any business.  The
      first impression doesn't stop once you've secured your
      client's laboratory business.  It continues with your sales
      rep's weekly on-site visits, couriers, trained phlebotomists,
      and those who are receiving client calls.  Educating your
      front-line employees and being able to demonstrate the
      importance of the improved quality and superior service
      your  laboratory  can  offer  could  be  the  motiving  force
      to stand up to your competitors and make your lab a
      contender in this competitive market.

      Outreach Strategies to Consider

      Even today, many hospitals that claim they have an outreach business are still not applying several important concepts.
      The more ideas you implement into your program, the more competitive and in control you will be with your hospital's
      outreach destiny, something commercial laboratories fear.

      Following these suggestions—along with an assertive marketing strategy—will escalate your presence in the
      community and increase your net profit:


      •   Provide in-office phlebotomy service to high-volume clinics or offices.
      •   Create marketing literature such as a colorful brochure, and look into promotional giveaways.
      •   Ensure that your website is accessible to laboratory links for informational outreach content.
      •   Implement a customer relationship management (CRM) software system.
      •   Ensure that you have a dedicated IT person to oversee connectivity.
      •   Establish a monthly revenue sales expectation.

      •   Keep track of your business by using detail reporting to facilitate informative decisions.